Message from the Principal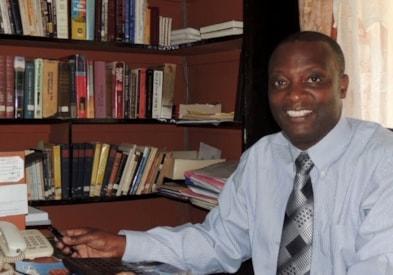 Welcome to Moffat Bible College, where we exist to equip people like you who desire to make a difference. Our graduates serve as agents of Gospel-centered transformation in all aspects. Some serve as pastors, counselors (in prisons, high schools and hospitals), evangelists, church planters, disciple-makers and missionaries in different tribes in Kenya and in some African countries. Since its founding on February 11,1929, Moffat Bible College has continued to be a leader in innovative, biblically-grounded, and practical ministry preparation. All what Moffat does is preparing men and women for diverse Christian ministries in Africa and the world. Moffat's education is multi-dimensional such that, faculty will challenge your mind, foster your hearts and give you the opportunity to use your skills. Moffat Bible College therefore, will do three things in your lives:
Moffat will sharpen your hearts such that, you will know Christ better than the way you know Him today.
Moffat will transform your head such that, you will critically know how and what you believe. You will be able to reasonably argue out your Christian faith and defend it.
Moffat will prepare your hands so that you can serve Christ faithfully in diverse ways.
We are therefore, privileged to serve students and send off graduates whose hearts, minds and hands have been transformed by the gospel of Jesus Christ. If Moffat's training connects with your calling and aspirations for life and ministry, be sure to contact us so that we can continue the conversation and take the next step together.
Blessings to you,


Dr. Paul Kamunge, Principal.